How It Works
The PepTown mobile app provides fans with live scores, rosters, schedules, photos, and more, contributed by anyone in the community who wants to support the team. The information is then sponsored by local businesses and individuals, who provide messages that appear alongside the content. Business sponsors show their support while gaining visibility within the community, and personal sponsors get to "shout-out" to their family and friends. Sponsors pay any amount they want. Messages are shown in rotation, each getting time in proportion to the amount paid.
people
Fans
Fans follow their team with up-to-date information including rosters, schedule, team photos, etc., as well as live score updates. Fans see who is supporting their team through messages inside the app, and they can login at any time to contribute content, or to become sponsors themselves.
favorite
Sponsors
Local businesses (insurance, auto, restaurants, etc) and individuals (grandparents, neighbors, friends, etc) show their support for school athletics by sponsoring messages in the app. The larger the donation, the more often the message is shown.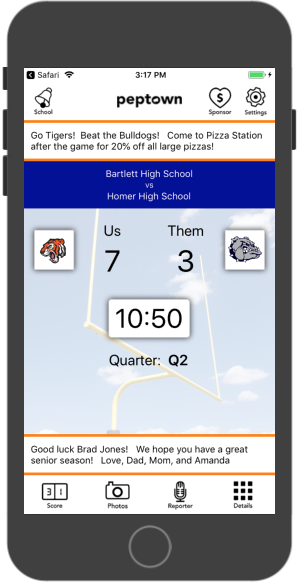 thumb_up
Boosters
Boosters help contribute team information and promote the PepTown app within the community, then sit back as money starts flowing into the school. No more fundraisers to manage, no more candy bars or t-shirts or cookie dough to distribute.
school
School
Money flows to the school and team on a monthly basis from PepTown as soon as the first sponsors appear in the app. 90% of all donations go to the school, compared to only 40% to 60% for traditional fundraisers.
A Better Way to do Fundraising
attach_money
More Money
Most fundraisers take 40% to 60% of the money and the school ends up with very little. PepTown passes 90% of all funds to the school, keeping only 10% to cover transaction fees and service costs.
block
No Stuff
Boosters don't have to worry about receiving, organizing, and distributing items like candy and nuts, and sponsors don't have to worry about buying a bunch of stuff they don't want.
flash_on
Instantaneous
Sponsor messages appear instantly within the app, so anyone at a game, for example, can become a sponsor and their message will immediately be visible to everyone at the game.
phone_iphone
Convenient
The entire fundraising experience takes place within the free PepTown mobile app. Sponsors sign up, provide their messages, and enter their donations directly from their smartphones.
access_time
Save Time
Fundraising with PepTown takes only a fraction of the time that athletic boosters, parents, and students normally spend on fundraising activities. No more going door to door.
mood
Team Spirit
PepTown fosters a greater sense of team spirit within the community as sponsors, such as local businesses, display their messages to the community and patrons they serve.
Frequently Asked Questions
money_off
How much does it cost?
Nothing. The PepTown mobile app is free. No one, including the school, parents, players, etc, pays to use PepTown. Simply download the app, begin adding information about your school and team, and as sponsors begin to sign up, 90% of all donations will be sent to your school.
edit
Who enters the information?
Anyone. Well, anyone who logs in. School, team, and event information is entered and kept up-to-date by the community. Anyone can login using their Facebook credentials to add or modify information, report on games, etc. (Login is not required to simply view information) School administrators are not burdened with the task of having to keep information current.
report
How is the data moderated?
Like other crowd-sourced platforms, PepTown is moderated by the community. Incorrect or inappropriate information can be edited and corrected, or simply flagged by users and PepTown will address the issue. Every change is logged by PepTown and full change history is available for viewing.
card_giftcard
Who can be a sponsor?
Anyone. The PepTown mobile app has separate sponsorship message areas for business and personal sponsors. All sponsors choose to sponsor a team or a specific event. Sponsors create their messages within the app, enter payment information, and the messages begin to appear immediately. The more a sponsor gives, the more their message appears.
phone_android
What about our printed program?
Many schools use traditional printed sports programs for fundraising. PepTown is like a real-time, digital version of a printed program, where personal and business sponsor messages (ads) appear alongside team information, right on your smart phone.
attach_money
How does it compare to other apps?
Sometimes we hear "Our school already uses an app" (such as GameChanger, MaxPreps, 8to18, or ScoreStream). While PepTown does provide team info such as schedules, rosters, and game results, like those other apps, the primary focus of PepTown is fundraising.
Business And Personal Sponsors
PepTown provides opportunities for both business and personal sponsors within the community. Businesses show their support for teams while also reaching their patrons with customized messages and business information. Individuals "shout-out" to their favorite athletes and can directly link their messages to athletes' student pages. PepTown supports most high school sports, including baseball, basketball, football, soccer, softball, volleyball, track, wrestling, and more.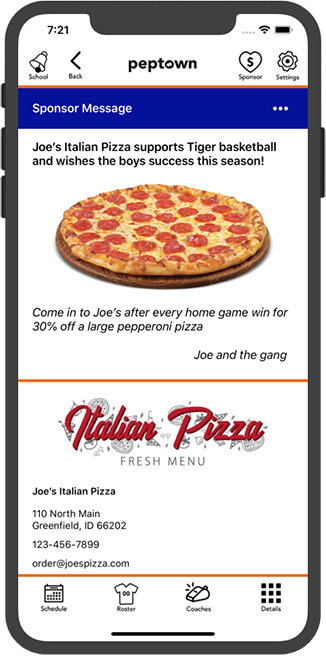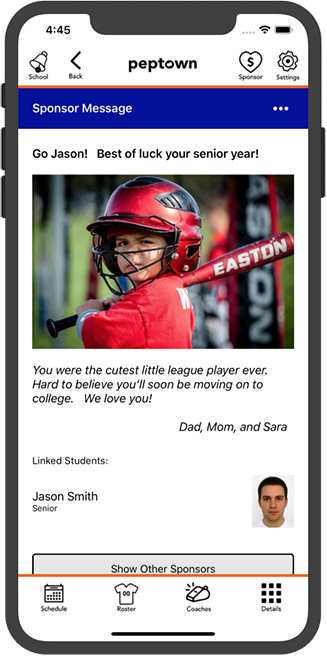 Helpful Resources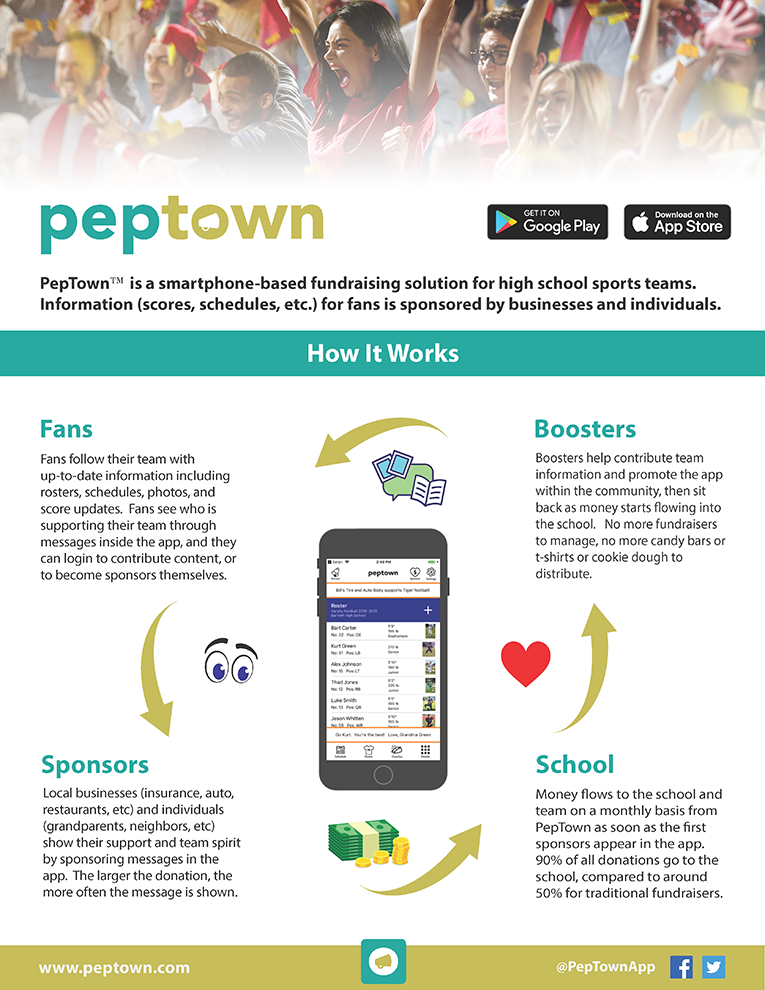 An introductory overview of how PepTown works, and how it is superior to traditional forms of fundraising for high school sports.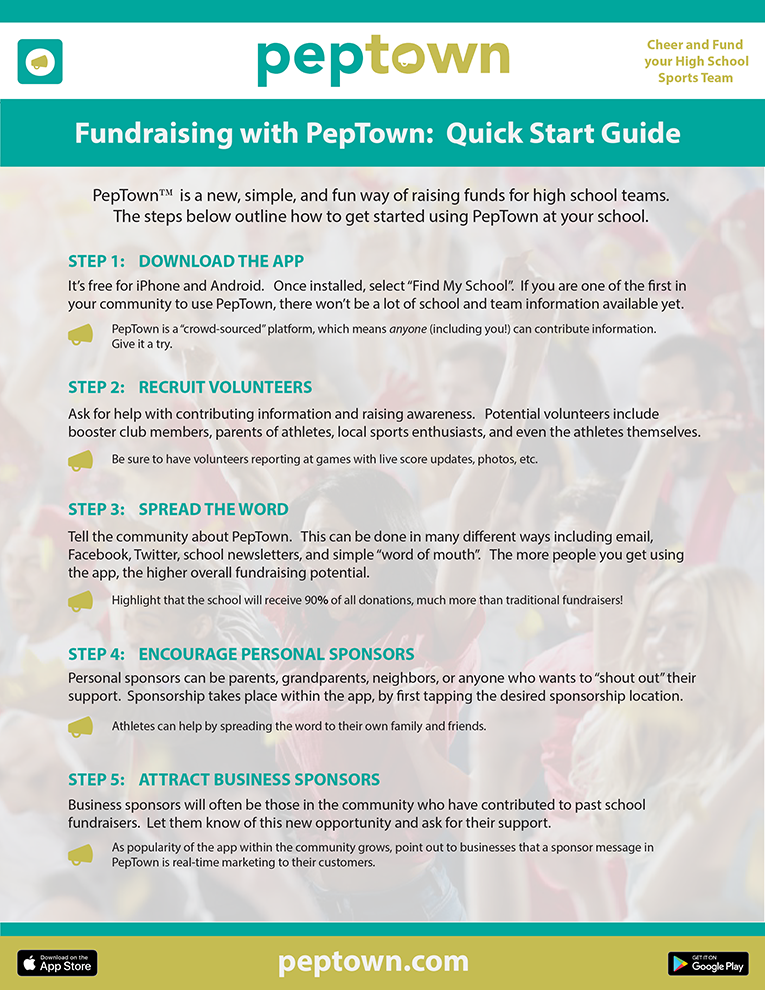 Ready to get started? Download our Quick Start Guide and follow our 5 step outline to get started fundraising with Peptown at your School.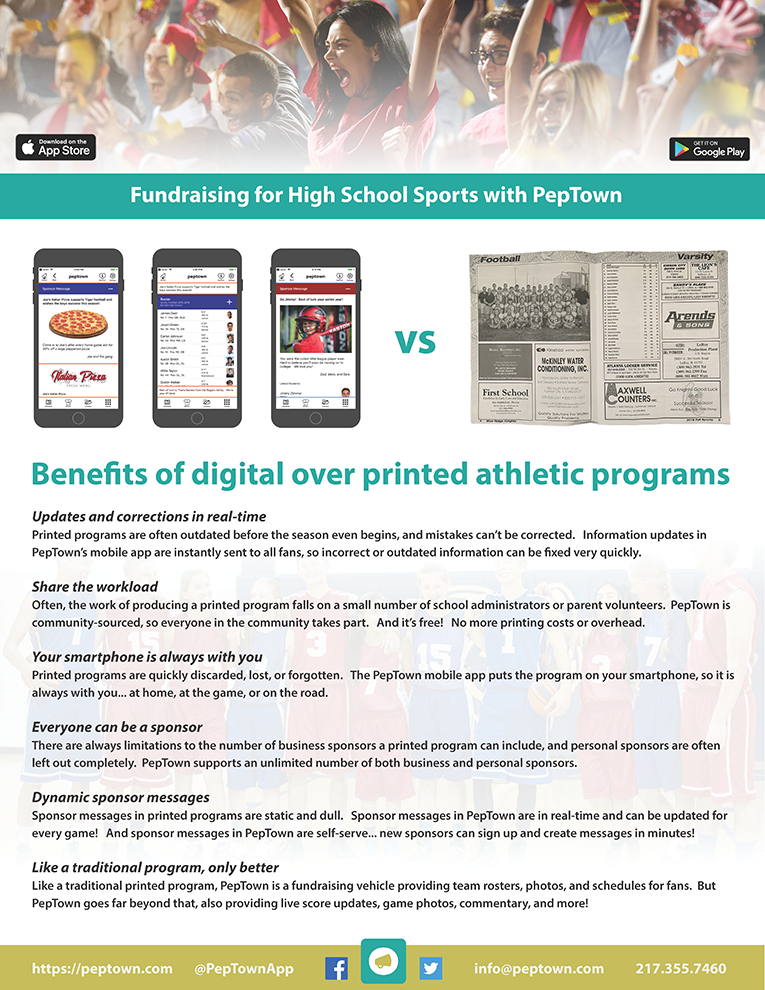 Six reasons why your printed athletic program should be replaced with a digital version on your smartphone.
Get in Touch
Need more information? Have feedback you'd like to share? We'd love to hear from you.
pin_drop
Find us at the office
510 Devonshire Drive, Suite H
Champaign, IL 61820
phone
Give us a call
+1 217 355 7460
Mon - Fri, 8:00-5:00
email
Send us email
feedback@peptown.com